37 weeks 4 days today !!! Holy cow Im having a baby in 17 days. EEEEEEEEEEEEEEEEE!!!!!!!!!!!!!!!
Here is the recent picture for you:
And for fun a bare belly shot-
Well I have offically moved into all of John's shirts except for a few that I have left that are comfortable. Bring on the pajama pants! I told John last night on our date night that Im done with Jeans til Miles comes.
No matter what Im up every 2 hours even if its just to look at the clock. I tried benadryl for a few days but it didnt help much.
Is knowing that I only have 4 more 12 hour shifts after today!!! Im beyond excited.


Nothing in particular at this point. I have already made a request for the meal I want after I deliver Miles. Chickfila of course!!!!
Oh its almost out. If I go to my due date it will pop out I just know it.
Yes and a lot! I know where his foot and hip/butt are at all times!!! Cant wait to kiss on those feet!
Still miss running and you better believe Im counting down the day til I can run again. I have 9 weeks left!!!


What I'm looking forward to:
Im looking forward to seeing the moment John holds Miles in his arms and his heart melts. This little boy has no idea how much he is loved already. I look forward to watching both of us grow as parents! Its gonna be a wonderful and challenging ride that Ive looked forward to my whole adult life!!! Im so blessed to have such a wonderful man to start a family with.
Oh and I have to share how I got my toes done for delivery day: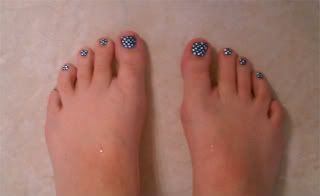 Im full term baby!!!!!!!!!!!!!!!!!!!!!!!!!!!!!!
-MissyCrissy :)